** OFFERING SAFE ELECTRONICS RECYCLING DROP-OFF SERVICE TO AREA COMMUNITIES **
Due to COVID-19, we ask everyone to please:
1. Remain inside your vehicle: Place items in a trailer, the trunk, back seat, or whatever is farthest away from any persons inside the vehicle and unlock/unlatch prior to approaching the front of the drop off line.
2. Wear your mask (cover nose and mouth) when interacting with our staff members.
3. All checks can be made out to: Resource Solutions / RecycleThatStuff.com
4. If you are sick/recently have been sick – please stay home. 
Please check back frequently for updates.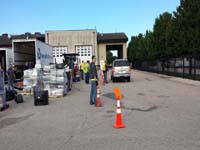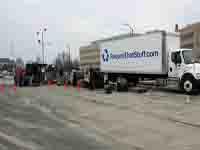 Current Electronics Recycling Drop-Offs
WANT TO HOST OR SPONSOR A 2023 ELECTRONICS RECYCLING DROP-OFF?
We are currently booking dates for the 2023 season. If you are interested in either hosting or sponsoring an Electronics Recycling Drop-Off please contact us to find out how we can help you organize a convenient recycling experience for your group, business, or community. Please request information and we will get back to you within 2 business days.
---
CAN'T MAKE A DROP-OFF?
Can't make it to an Electronics Recycling Drop-Off? You can drop off at either of our locations, without appointment, anytime during our regular business hours.
Madison: Monday-Friday: 8:00a-4:00p Saturday: 8:00 – Noon located at 5493 Express Cir, Madison.
Appleton: Monday-Friday: 8:00a-4:00p located at 121 N. Linwood Ave, Appleton.
---
INFORMATION REQUESTS
If you have questions or need additional details regarding events and/or services use our quick and easy request information form and we will get back to you within 2 business days.